Description
Vacuum Insulated Panel VIP Shippers Cold Chain Esky Ice box
Vacuum Insulation Panel Coolers for Cold Chain Management
Transporting temperature-sensitive drugs in a non-refrigerated environment has been one of the biggest challenges the pharmaceutical industry has faced, costing them millions of dollars due to cold chain breaches. They have predominantly relied on extra-thick walled iceboxes that are overloaded with refrigerant ice packs and yet find the solution to be inefficient, especially when it comes to temperature specific specimens where they are required to maintain specific sub-zero temperatures. Invariably due to the large size of this type of cooler, because it has to accommodate the extra insulation and all the countless ice packs, the freight of these coolers gets very expensive. Thanks to vacuum technology known to be the best insulating medium, the coolers made using this technology are a saviour to this industry.
Cryolux manufactures a range of vacuum insulated panels that have R values of 36 which is almost 12 times greater than the standard polystyrene insulation. These panels are engineered with durability in mind. Since they are very brittle and need extreme care while handling, Cryolux has incorporated the vacuum technology to be sandwiched with other reliable materials to make them stronger and capable of taking minor impacts which are very common and expected during transport. Cryolux vacuum insulated shippers are not only lighter but also more compact, making them convenient to store and handle and also cost-effective to transport. These VIP shippers combined with the right amount of phase change material bricks can maintain the temperature for over 7 days. Cryolux has developed a range of VIP shippers that have been designed to be flat packed and transported back to the source hence making them cost-effective to freight back to the source.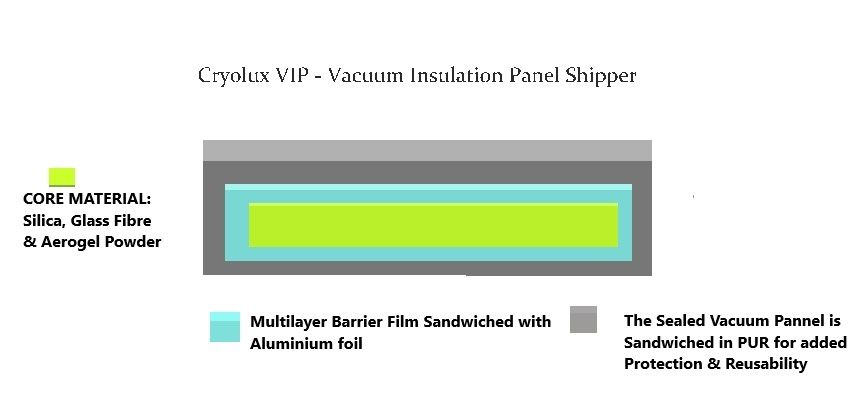 It is important that the core of the vacuum panels have high-quality materials that are porous and have an open cavity similar to open-cell polymer foam panels or glass fibre foams and even silicon. Silicon code panels generally have a much longer vacuum life compared to the other types of vacuum panels. These materials are carefully laminated in multiple layers of aluminium polymer barrier film that is non-porous and vacuumed into a panel to avoid any leakage. The high thermal performance remains only until the vacuum exists in this panel. The moment there is a leak, The R Values of the insulation drops from 36 to almost 0. Hence multiple layers of the film are used to make the panel puncture-resistant thus preventing water vapour, nitrogen, oxygen, etc from leaking into the panel. To provide additional protection and improve the strength of the panel, it is further sandwiched with a high-density polyurethane.
Please feel free to contact us for a customised vacuum panel solution.